Mastering social media is essential to every small business owner. If you're not using social media in your business, now is the time to start.
People ask me if they should bother spending the time on social media, if it is really that important. The answer I always give is "yes". It is important and it will do wonders for your business if you do it right.
Here are the top 10 reasons why you should be mastering social media:
1. Social media gets the word out.
Social media really helps get the word out about your business. You can reach a much larger audience than just going out and networking. Your social media connections are people who probably already know you and your business, and will be most likely to tell their friends/connections about you once they see you're online.
2. Social media allows you to strengthen relationships.
Social media allows you to strengthen relationships with these connections through social engagement. Because this engagement is easily visible to the connections of your current fans and followers, social media can introduce your business to a whole new audience and enable you to reach your next great client.
3. Social media allows you to reach your target audience.
People always ask me how they can best reach their target market. While there are ways to do it on a local level, social media is the easiest and most effective. Depending on the platform – you can reach any age group and demographic. So, no matter how young or how old your target audience may be, chances are most of them are already online. Even better than that, you can really focus your efforts on your ideal client demographic, so you know you are getting in front of the right audience.
4. Social media users are active.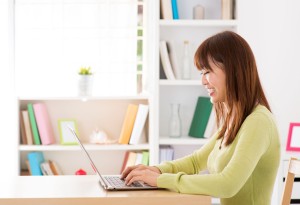 Social media users are extremely active on social media. Millions of people log in to social media every day. Many are on there for house. 60 percent Facebook users say checking Facebook is one of the first things they do every day. I know I do! That means hundreds of millions of people are on Facebook every day! This level of activity isn't unique to just Facebook, other platforms have the same amount of activity.
5. Social media allows you to communicate.
Social media lets clients share their thoughts, questions, and ideas quickly and publicly. Social media allows you to respond just as fast, without having to pick up the phone or worry the client isn't seeing your response. If clients are online saying good things about you, it does wonders for your credibility.
6. Social media is great for customer service.
Providing excellent customer service really needs to be a priority for small business owners like us. Social media offers a unique opportunity to step up your customer service and provide instant gratification to your audience. Social media also gives you an easy way to stay connected to your customers. The more often they hear from you, the more likely they are to remember you and hire you again or think of you when a friend needs help. Also, people now expect to receive customer service through social media. If people are searching for you online and not finding you—you are missing out on potential business.
7. Social media will also help boost your SEO (Search Engine Optimization).
The more presence you have online, the more likely people are to find you. The more often your name or keywords pop up online, the higher you'll go in search engine rankings.
8. Social media positions you as the expert.
Social media allows you to position yourself as the expert by sharing your knowledge with the public. The more you share, the more people will see that you know what you're talking about and they aren't going to be hiring some hack.
9. Social media is free.
You don't have to pay for social media. It's essentially free marketing. The only thing you put in is your time and we'll talk more about managing your social media time in this blog series.
10. Social media is fun!!!
You can make social media fun. The more fun, the more followers you will have. In my experience, a humorous joke or quote gets more likes than anything else I've ever posted.
Stay tuned for Part 2: 5 Tips to Get the Most out of Social Media. Coming soon!
In the meantime, if you want to learn it all, download our online course: Successful Marketing Strategies for Professional Organizers today!