So much is trending in the organizing industry today – Marie Kondo, Senior Move Management, Digital Organizing. It's hard to figure out just what to do. And the market is saturated with generalists. Just doing anything doesn't make you stand out anymore. The best thing to do these days is to find and focus on a niche. Even if you've been in the organizing business for a while, finding your niche as a professional organizer will be beneficial to you in many ways. Not only will it help you stand out, it will do wonders for your marketing efforts and help you target your potential organizing clients.
Having a niche doesn't mean you have to only do one kind of organizing forever. You can certainly say yes to a variety of projects as they come your way. But, having a niche will help you compete in the growing market. There are so many organizers out there that it really helps to have a specialty to stand out among the crowd.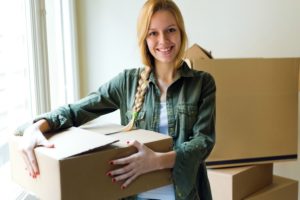 To determine your professional organizing niche, first think about what makes you happy… Do you love to organize homes; tearing though closets, organizing kitchens, sorting Legos? Or perhaps you prefer to organize offices, working with paper and processes. How about specialty areas like downsizing seniors or unpacking after a move? Maybe you like to work with clients who have special needs; such as hoarding or ADD?
Another thing to look at is your past experience. What did you do before you became a professional organizer? What skills and experience are you bringing to the table from your past career? Can you leverage those skills into a niche? I came into the organizing field with a background in graphic and web design, so digital organizing came easy to me. It's not my favorite thing do organize, but I can do it with ease. Think about what you are good at, in addition to what you like to do. If those two things are the same, that's awesome! You've go a niche. If not, then dig a little deeper….
Let's do a little visualization. Close your eyes and picture yourself walking into a space. Is it a home or an office space? Now imagine it's disorganized. What are you most excited about tackling first? How about when you are organizing your own space? What areas give you the most pleasure and what, if anything makes you cringe? Even if you love, love, love to organize, there is usually something you don't like to do. My favorite thing to organize is clothing and closets. So, that is the first thing I'll tackle in my own space. My closets and dresser are perfect. My least favorite thing to organize is papers, especially when it comes to filing. I really have to force myself to sort through papers.
If you haven't done enough organizing to be sure, you can certainly start out by trying all different areas and figuring out what you like (and don't) as you go.
If you are just starting out, the best way go about finding your niche as a professional organizer is by helping people you know. Offer a free session to friends and family in their homes and even offices. This will give you the opportunity to test your skills and figure out what you like (and don't like) to do in a comfortable, no-pressure setting. Make sure you are offering your free services to those who will provide you with constructive feedback, so you can get an idea of not only what you like to do, but also what you might be really good at and areas where you might need a little more practice.
Here are a few niches to consider:
Senior move management
Project management
Digital organizing
Office organizing
Financial organizing
Closet design
Home staging
Working with the chronically disorganized
ADD/ADHD
Organizing children or students
And the list goes on…
Once you have determined your niche, then you can market it and use related keywords on your website and social media to draw people in. The other great thing about marketing your niche, is you know exactly who to market to and won't waste your time and money casting a wide net.
Now, go get 'em organized! 🙂