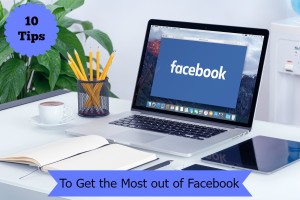 Welcome to Part 3 in our Mastering Social Media Blog Series: 10 Tips to Get the Most out of Facebook
Facebook is an informal way to connect with your audience. You don't have to take it too seriously, so be creative and have fun with it. Here are 10 tips to get the most out of Facebook:
#1 Create a Facebook business page. If you don't have a business page, create one now. You can do this through your personal account. Facebook lets you choose a name extension, so reserve your business name (before anyone else does!). For example, my Facebook business page is https://www.facebook.com/OrganizingUniversity/. Like me and I'll like you back! 🙂
#2 Get people to "like" you. Offer incentives, like a free tip sheet or a hold a contest where you give one of your products or services away as a reward for people who like your page. Invite your friends to like you, but only if you feel that your content will be relevant to them.
#3 Target your content. Target your content to a specific audience. Who are you marketing to here? People are more likely to click on posts that are relevant to their interests and needs.
#4 Don't overwhelm your customers with content. Post once or twice a day at the most. Be selective about what you're publishing. It's better to spend more time putting together a really good Facebook post then creating a bunch of "meh" posts.
#5 Post when you audience is not at work. Most people check Facebook from home or their phone, but not typically while at work. So, figure out when your target audience is on Facebook and post during those hours. This will include the later evening hours for many people, as well as on weekends. Wednesdays tend to be popular days for likes and comments, so save your best post for Wednesday.
#6 Make it interesting. Post pictures, fun facts, links to relevant articles, informal comments, motivational quotes, etc. Give your audience information that they will actually enjoy reading.
#7 Encourage conversations. Post questions that will get people talking. Ask them to share challenges and success stories. When people comment, be sure to respond and keep the conversation going. Share your own challenges and success stories as well. Be human.
#8 Give people something to share. If your content is interesting and informative, people will be more likely to share it with their friends. You can also share other people content that you think your audience will find interesting.
#9 Use Facebook ads to build your following. Facebook ads are inexpensive and easy. You can use them to get more likes, or promote a single post. You can target your customers and reach the demographic you think will want to hear from you. It's affordable, too. You can set your daily spending limit and budget.
#10 Measure your results. Track and see when you get the most interactions and likes. Look at what posts are getting the most attention. See where your audience is engaging and then give them more of what they want.
Follow these 10 tips to get the most out of Facebook and you'll have your Facebook business page going strong in no time! Remember, Facebook is less formal than other platforms, so have fun with it!
Stay tuned for Part 4: Getting the most out of Twitter!
Want to learn more? Check out our e-course: Mastering Social Media